Meeting room prices
Our lounges and our team are at your disposal to organize seminars, study days and conferences.
Rental of our lounges with a view of the Cathedral
---
Including video-projector / audio system / paper-board / wifi
No additional services (no breaks or lunch)
Pause: €4.00 incl. tax / Person / Pause.

The Kammerzell Lounge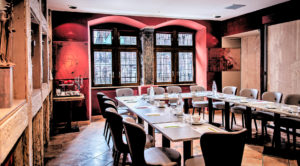 The Cathedral Lounge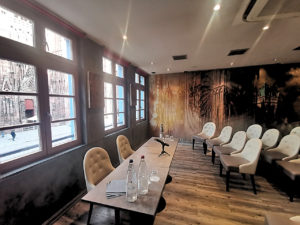 The semi-residential seminar package
---
€195 incl. VAT per person – Cathedral View Rooms
or €165 incl. VAT per person – Cozy Rooms
This package includes:
single room accommodation
buffet breakfast
the rental of a salon for the day or two ½ days
two breaks (permanent breaks in the lounge or at the bar)
lunch
video-projector/audio system/paper-board/wifi
The study day package
---
€85 including tax per person
This package includes:
the rental of a salon for the day or two ½ days
two breaks (permanent breaks in the lounge or at the bar)
lunch
video-projector/audio system/paper-board/wifi
Contact us